The technology landscape is evolving faster than ever.  To stay competitive in the modern digitized world, organizations need to stay connected, delight customers with a stellar user experience and utilize real-time data across all their many systems to make accurate and insightful decisions.  The need for reliable and accurate and timely systems, in addition to data integration internally as well as externally with third parties like partners and suppliers, is more important now than ever.
Each company or government agency relies on countless software applications to run their business (e.g. CRM, accounting system, ERP, website, email, document management, file sharing services, social media). Now adding to that complexity are different internal teams utilizing disparate systems (all of which collect data in silos).  Further, there is a never-ending flow of new technology options in the market to meet the changing demands and needs of customers and constituents.
A recent survey (of companies with 1000+ employees) highlighted that companies now use an average of 976 applications and only 28% of these apps are integrated.  It's not surprising that 89% of companies struggle with data and systems integration.  Integration is a crucial part of the digital transformation journey and is driving demand for agile work processes and a continued shift to the cloud.
The goal of systems integration is to ensure that all internal and third-party systems work together to benefit day-to-day operations, increase productivity, reduce technical debt and provide a competitive edge. As the number of systems and applications continue to increase, a partnership with the right systems integrator is key to
improving business agility,
reducing operational costs,
managing security and risk,
minimizing the burden on IT teams, and
gaining powerful insights through data.
The VIP Integration Methodology – Putting the "People" in Systems Integration
Successful integration is complex and definitely not a "one-size fits all" approach. It requires alignment between business, technology, people and process.  VIP (Visionary Integration Professionals) has deep experience across environments, requirements, roles and systems along with strong strategic partnerships to deliver innovative solutions.  By linking expected business results to your technology and workflows, we define what organizations need for successful integrations.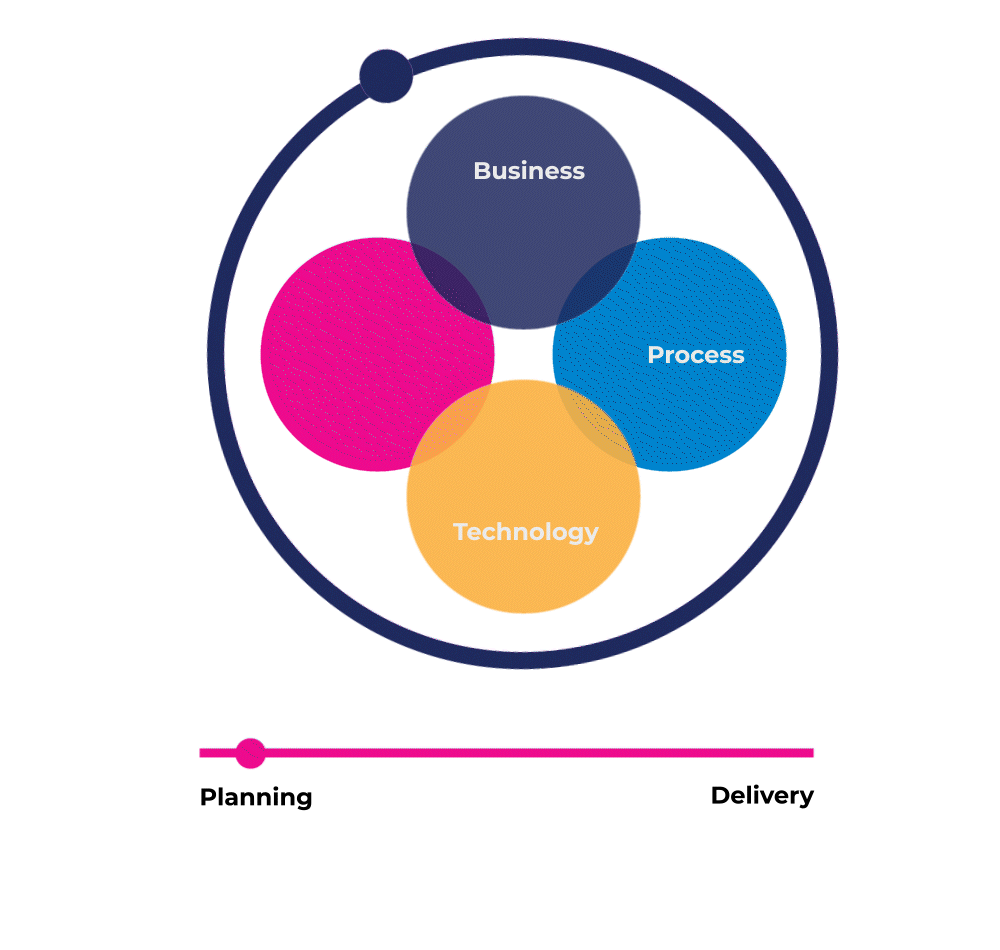 Stay focused on the business value and priorities as they relate to deployment.
Employ a systematic project management approach and delivery methodology that ensures agility at scale.
Integrate people, not just process and technology.
Connect strategy to execution from planning to delivery.
Our repeatable system integration process and strategic partnerships help customers achieve their key objectives and address both IT and business challenges. VIP has established a rigorous project management process and an operational framework that works in your environment and can be as agile as you are or want to be. You will have the flexibility to shape, modify and adapt your approach over time to align with market and customer/constituent needs while still anticipating and mitigating risk.
We align with modern implementation best practices and agile development to reliably deliver projects on-time and within budget. The approach fosters collaboration between project stakeholders to identify and mitigate risks. These ensure timely and accurate communication and decision-making throughout the engagement. Check out VIP's recent blog "State and Local Governments deliver sustainable change through agile development."
Most importantly, VIP's seasoned team is a triple threat – excelling in defining the scope and desired business outcomes while remaining flexible enough to account for changes in the market or customer base. We also work to understand systems, technology, data and partners,while executing solid and collaborative project management adhering to timelines and budget.
One of our key differentiators is our people who have years of industry and technology experience, giving them the foundation to understand how to build true partnerships, align with market and customer needs, handle complexity and minimize risk, and deliver user-centric solutions to achieve business outcomes.
Not only have our customers benefited from an increased quality of their day-to-day operations and better management of their businesses, they have also seen a dramatic increase in productivity and customer satisfaction coupled with a decrease in risk and cost.
To learn more about our approach to systems integration and the success of our customers, Click here.