Visionary Integration Professionals (VIP) works closely with strategic technology providers to deliver critical solutions and solve the most complex problems of leading corporate clients, including large and mid-sized organizations spanning across a variety of different industries. Today's businesses are facing tighter budgets and heightened scrutiny of purchasing decisions than ever before, companies must continue to invest in their technology infrastructure.
Technology Investment Drivers
Worldwide information technology spending priorities are shifting under changing conditions. However, the ongoing need to upgrade outdated IT infrastructure continues to be the largest driver of increased investment. Annually, companies are typically budgeting more funds in order to:
Address technology end of life
Drive new revenue streams
Enhance business processes
Improve the client experience
Increase operational efficiencies
Protect against growing security threats
Support ongoing upgrades / refresh cycles
Manage changing business needs
The amount of money Gartner expects will be spent on IT products and services this year.*
As organizations initiate transformational change, they require exceptional consulting and project management capabilities to achieve success.
VIP has a strong history of delivering systems integration, organizational change management, thought leadership, and quality assurance services via complex and high value project engagements. Companies in retail, healthcare, financial services and other vertical markets across North America rely on VIP to solve business problems and deliver successful projects using the right mix of experienced staff, proven processes and superior technology.
Discover the ways we can work together to provide the technical knowledge your team needs for its next digital transformation project.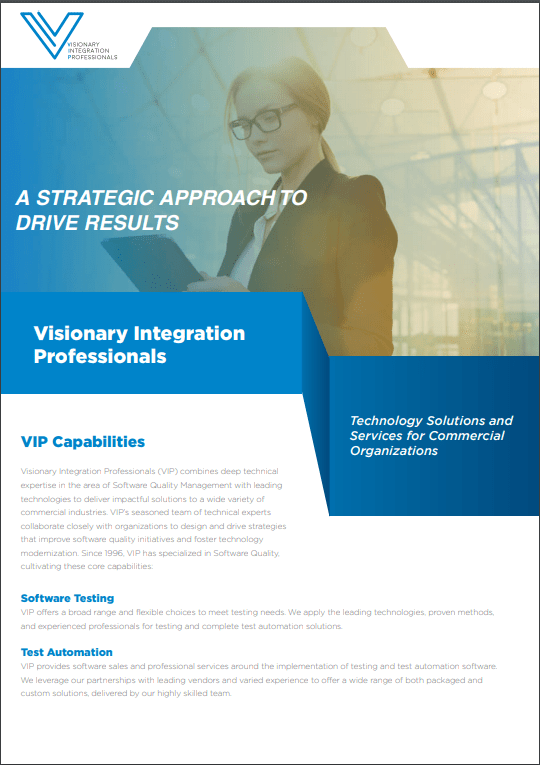 VIP delivers impactful solutions and services to corporations. Learn how.